Leveraging a full-featured live streaming platform is one of the best ways to reach, engage, and teach your audience and generate leads for your online courses and other digital products. It's an area we are investing a lot in at Learning Revolution, and in this article, we take a look at some of the best live streaming software to multi-stream to popular platforms like Facebook, LinkedIn, and TikTok to get your expertise out to the world.
These are our top picks for live streaming platforms for expertise-based businesses, but read on to learn more about other options and find the best streaming software for you.
If you're looking for the best live streaming software to host virtual events that thousands of participants can view on your website and that you can stream to multiple sites at once – on Facebook, YouTube, TikTok, and LinkedIn, etc. – this article is for you.
Research shows that live videos hold audience attention 10-20x longer than recorded and on-demand videos. That's why some of the world's biggest brands like Coca-Cola, Toyota, and Apple, regularly use softwares for streaming their company events, product launches, and marketing campaigns.
Live streaming is equally effective for smaller expertise-based businesses and course creators. For example, many successful online course sellers hold live Q&A sessions and stream weekly audience engagement videos – a great way to build and engage an audience to actually buy your courses – and to have an actual impact with your expertise.
If you are a musician or performance artist of any sort, a live stream platform is the key to how to perform live online.
But before you go live, you need to find the best streaming software solutions for your business.
In this article, we provide in-depth information on some of the most popular live-streaming tools and help you make the right choice.
What's the Best Live Streaming Software for 2023?
Restream – The overall best streaming software to stream to many platforms
Be.Live – One of the easiest platforms for those just getting started with livestreaming
StreamYard – Feature-rich platform with some of the strongest recording capabilities
Onestream – The best end-to-end streaming software with strong analytics for pros
Crowdcast – Best for monetizing your livestream and multistream events
What To Look for In The Best Live Streaming Software?
With viewership on live streaming websites skyrocketing worldwide, numerous streaming software solutions have popped up over the last few years.
But what should you look when evaluating different streaming software options?
Here are the key factors to keep in mind with most live streaming software options.
Live Stream Quality
Does the live stream service have the necessary technology to support HD streaming even on light connections?
Will your viewers be able to see the actual quality of your stream?
Does your video frequently break on a live stream service?
Does the service automatically adjust data consumption based on the user's device and connection?
Viewer Limits
Are there are any limits on the number of people who can view your live stream?
Does the streaming service have a banned or unsupported country list where viewers cannot see your stream?
Is there are a duration limit on streaming or watching your video?
Accessibility
How can viewers watch your video?
Do they need to download a new app or register for an account?
Or can they access your video from a public link?
Viewer Engagement Features
Does the service offer features like live chat, emojis, file sharing, etc. – definitely important when you want to engage your prospective learners and provide them with value?
Are there any templates or video frames for different occasions? (This can make your life much easier.)
Integration and API
Can you share your stream on platforms like YouTube, Facebook, TikTok, etc.?
How to stream to multiple sites at once – i.e., can you do multi platform streaming?
Does the software have an API to enable custom integration with other software?
Costs
Naturally, cost will be a factor. Fortunately, the cost of live streaming an event has come down quite a lot in recent years – and there are even free live streaming options. So, if you are wondering how much does live streaming cost, we'll definitely cover that for each event streaming tool discussed in this article.
All of these questions will help you objectively evaluate a streaming software.
Top 10 Live Streaming Software Features, Pricing & Free Trials
So, what's the best streaming software right now? Let's find out.
1. Restream – Best Streaming Software
Restream is one of the most popular streaming software options, with more than 8 million monthly live broadcasts and 600 million monthly viewers.
Features
It supports multi platform streaming that allows you to broadcast your videos live to more than 30 different social media sites, online groups, and streaming platforms.
Restream natively integrates with live streaming solutions such as OBS Studio, SLOBS, Elgato, XSlit, and many others. You can start a stream right from your web browser using your webcam, system video, or streaming software.
Restream simplifies streaming on multiple platforms by allowing you to update the stream meta for all sites from your streaming dashboard and generate alerts for your Twitter, Facebook, and Discord audiences.
You can engage your Restream audience using live chat or by inviting guest speakers during your stream who're visible to all your audience. Using these features, you can easily host online conferences or interview shows for your audience.
In short, Restream is among the best streaming software for beginners and seasoned steamers alike.
Restream Pros and Cons
Pros
Restream is great for streaming to multiple platforms simultaneously.
Excellent customer support care
The Ecamm live integration feature enables you to view comments from various social media accounts in the same chatbox.
Cons
Restream has time limitations for video scheduling unlike some other platforms that have a 1 minute time schedule limit.
Restream offers three different plans for individuals and a couple of advanced plans for businesses that need streaming services.
For individuals, Restream also offers a free plan that allows streaming on 30+ platforms, including Facebook, Twitter, Twitch, etc., with screen sharing, captions, on-screen comments, and many other additional features.
The Standard plan starts from $16/month and offers stream recording up to 6 hours/stream, custom stream integration, and many other advanced features.
The Professional plan is designed for regular streamers and empowers them with additional storage, more extensive audience engagement features, and customizations.
Overall, Restream's pricing plans are quite affordable and offer excellent value for money.
StreamYard is another top-rated streaming software used by celebrity entrepreneurs like Gary Vaynerchuk and thousands of other satisfied users.
It is a highly intuitive product with an exceptionally well-designed user interface that's easy to navigate and use even for first-time users.
Features
StreamYard allows you to stream to multiple platforms with broadcast-quality live video from your account dashboard. It integrates with all the popular streaming software and also provides custom integration via its API. However, its multi-streaming features aren't as robust as Restream.
StreamYard stands out because of its audience engagement features. For example, it allows you to include multiple on-screen participants in a stream who can interact with your audience.
Similarly, it provides you an attractive instant messaging panel alongside your steaming window from where you can message your viewers and answer their questions. You also get emojis and custom animated graphics to help you host an entertaining and engaging live stream.
StreamYard Pros and Cons
Pros
Several streaming features on StreamYard are free
Hosts can add up to 10 on-screen participants to 1 live broadcast session
StreamYard allow the customization of streaming integration through RTMP
Livestream videos can be saved and downloaded from the platform in both audio and video formats
Cons
The video editing and broadcast management features are limited
No in-depth analytics on broadcasts
StreamYard offers three attractive pricing plans for different types of users.
First, it offers a free plan for individuals and professionals trying to explore streaming on a small scale. This plan comes with screen sharing, comments, green screen, and multi-screen features.
The Basic plan starts from, $16.67/month (billed annually) and allows you to remove StreamYard branding from your videos and add your logo and backgrounds. Plus, you get unlimited streaming, pre-recorded streams, and up to 4 hours of stream recording.
The Professional plan starts from $35.67/month and provides up to 8 hours of HD streaming along with audio recordings and many advanced features.
3. Castr
Castr is a feature-rich streaming software trusted by 200K+ content creators, professionals, and businesses worldwide. It is a complete solution for creating, hosting, promoting, and monetizing live streams on more than 30 different platforms.
Features
Castr gives you an embeddable video player to use on your website, social media profiles, and any other hosted platform to broadcast your live streams.
You can fully customize your stream's appearance by adding your logo, changing the background, and using different color themes for your video player.
Apart from live streaming, you can also use Castr to schedule pre-recorded videos for your audience so that they can view them when they're most active online.
You can record your live streams and offer instant replays to your audience or sell your video as a paid session. Similarly, you can enable monetization on your live streams and allow only paid members to watch your content.
Plus, you get detailed viewer analytics to understand your audience composition and behavior.
However, Castr's audience engagement features aren't as robust as other platforms in this list. You'll also need a video encoder like OBS to stream videos with Castr.
Castr Pros and Cons
Pros
It is easy to use
Castr offers the ability to launch multiple streams at the same time on multiple platforms
Streams can be scheduled automatically in advance
Cons
Castr does not have a set up for Instagram
Castr Pricing and Free Trial
Castr offers different plans for individuals and businesses. For example, you can opt for its multistream plans or all-in-one plans that include multi platform streaming, video hosting, embeddable player, and many other features.
Each paid plan comes with a 7-day free trial as well. However, Castr doesn't offer a free trial or plan.
Here's what its paid plans cost per month (billed annually)
The All-in-one Entry plan starts from $37.5/month and offers 30+ stream destinations, 2 concurrent streams, and unlimited cloud storage.
The higher-priced plans offer more storage, bigger file uploads, and concurrent streams, along with several other features. But the Entry plan is sufficient for any beginner to mid-level streamer. The video quality for all plans is excellent.
Be.Live is a popular streaming software designed for entrepreneurs, bloggers, and content creators looking for multi platform streaming features.
Features
It's an intuitive platform with easy-to-use features designed for complete beginners. Be.Live allows you to host unlimited live streams in HD with up to 8 on-screen hosts.
You also get file sharing and video sharing options with your audience. Plus, viewers can comment on your stream and use emojis to react. You can also add CTA buttons and links in your video streams to drive action.
You can fully customize your live stream's appearance by adding your logo, changing the theme colors, and using different backgrounds.
Be.Live supports direct integration with YouTube, Facebook, LinkedIn, Twitter, Twitch, etc. You can also use custom integrations to broadcast your live stream on various other platforms.
Once your live broadcast is over, you can edit your video in the Be.Live video editor for free and trim or crop the unnecessary parts to create a polished recorded session with excellent video quality that you can offer as a paid program or a lead magnet to your audience.
Be.Live Pros and Cons
Pros
Be.Live offers an excellent multi-streaming feature that enables streaming on up to 20 unique platforms
Its interface is easy to understand/use and offers all the basic features for live stream.
You can share links during live streams
Cons
Transitioning between various scenes/cameras/media isn't as smooth as expected
Be.Live offers a generous free basic plan for beginner streamers that allows up to four hour-long streams thrice a month for unlimited viewers.
For the more advanced features, you need to sign up for one of Be.Live's premium plans.
The Standard plan starts from $24.99/month and offers unlimited streaming, video recording, custom branding, and live sales features with four on-screen participants and up to four multi-stream destinations.
The Pro plan costs $37.5/month and offers higher storage and multi-streaming limits designed for bigger audiences.
OneStream is among the best streaming software because its comprehensive video broadcasting features and extensive integrations allow you to multi-stream to more than 40 different social media platforms simultaneously.
Features
With OneStream, you can live stream pre-recorded videos and schedule them 60 days in advance on 40 different platforms. You can also set up a playlist to automatically stream your content on a fixed schedule.
Since it's an entirely cloud-based solution, you don't need to download any software or additional application for streaming. Your video streams are recorded in your media library, from where you can configure an instant replay or add the same to a playlist.
You also get features like auto-captions and live chat to create a more engaging video experience for your viewers.
OneStream also links up with other streaming tools via RTMP to enable broadcasts on supported platforms.
Overall, OneStream is among the most impressive platforms on this list and one of our top picks for the best streaming software.
OneStream Pros and Cons
Pros
Data can be exported out of the OneStream system using third-party tools
It offers predictive analytics that makes budgeting and forecasting seamless
OneStream provides a unified system
Cons
OneStream has a steep learning curve
OneStream Pricing and Free Trial
OneStream offers three paid subscription plans along with a limited feature Free basic plan.
As a free user, you get unlimited streaming for recorded videos of up to 5 min. However, you can use real-time streaming or multiplatform streaming features.
Here's what OneStream's monthly plans cost.
OneStream's Basic plan costs $10/month and allows unlimited streaming and multicasting for pre-recorded video files. Each stream can be 15 min long. You also get 5GB of cloud storage for recorded videos.
Their Standard plan, priced at $39/month, offers the most value for money and allows real-time streaming and multicasting for up to 1 hour.
Livestream by Vimeo is a popular enterprise live stream and web conferencing solution. It is ideal for large organizations and distributed teams looking for secure live video broadcasting features.
This is why companies such as LinkedIn, Deloitte, Nikon, and many others use Livestream for online conferences, seminars, team events, product demonstrations, and consumer engagement.
Features
It comes with multi-platform streaming features along with an embeddable video player you can use on your website or landing pages. You also get audience engagement features such as graphic overlays, live Q&As, polls, and emojis.
If you're looking to drive your viewers to a specific page or URL, you can use in-video CTAs as well.
Overall, Livestream by Vimeo is a robust live stream solution for corporations and enterprise companies.
Livestream by Vimeo Pros and Cons
Pros
It is very reliable and has little to no downtime
The interface is easy to use and set up takes a couple of minutes
Streams can be scheduled in advance
Cons
It does not permit streaming to both Facebook and YouTube simultaneously
Livestream Pricing and Free Trial
Livestream by Vimeo offers three premium plans for different business types.
Vimeo Advanced costs $55/month and offers features such as marketing integrations, virtual events and webinars, and event registration. Plus, you can host live Q&A, live chats, and polls,
Vimeo Enterprise and Vimeo OTT are designed for enterprise businesses looking for more custom live stream options with higher security and dedicated support. You'll need to contact Vimeo's sales team to get a quote for these plans.
7. IBM Video Streaming
IBM Video Streaming is an end-to-end live streaming solution for corporations, distributed teams, and entrepreneurs. It offers live stream of on-demand and real-time video content in the highest quality.
Features
IBM's secure video platform does not have any caps on video bitrate and resolution, which means your content goes live in its original HD quality. Similarly, IBM ensures uninterrupted streaming at the best available quality by using multi-CDNs.
You can use IBM Video Streaming for hosting online conferences, corporate events, employee team, meets, sporting events, or anything else you want the world to see live.
To enhance your audience's viewing experience, IBM offers engagement features such as emojis, pools, live chat, and Q&A. You also get a customizable channel page along with a mobile-compatible video player that seamlessly broadcasts your live video on any device.
Overall, IBM's video streaming solution is an excellent choice for corporations and companies looking for a reliable live stream partner.
IBM Video Streaming Pros and Cons
Pros
The platform delivers high quality videos and quick custom transitions in different resolutions.
Recorded content is easily published
Cons
Updating the channel or off air icon is quite complex
IBM Video Pricing and Free Trial
IBM Video Streaming offers four different paid plans for various business needs. You can also go for their 30-day free trial plan that comes with limited features to help you experience the product.
Here's what the premium plans cost per month.
The Silver plan starts from $99/month and offers up to 100 viewer hours of streaming, 1 TB of storage, viewer engagement features, and access to APIs and SDK's for multiplatform streaming.
The Gold and Platinum plans are designed for bigger organizations with more extensive live streaming needs. They offer next-level security with advanced audience engagement features and dedicated support.
Crowdcast is among the most popular live-streaming applications in the world. Millions of viewers join Crowdcast streams to watch live and recorded sporting events, entertainment shows, corporate meetups, online courses, and other events.
Features
Crowdcast is ideal for hosting live paid events like conferences, courses, training, and coaching programs. It allows you to directly charge for your content through Stripe, PayPal, and Patreon integration.
Its strengths are simplicity and ease of use. You can create live events with Crowdcast in a matter of minutes. Your streams are automatically recorded and available to share with your audience once a live session ends.
You also get various audience engagement features and multiple fully customizable landing page templates to boost your session sign-ups.
However, Crowdcast isn't the best multiplatform streaming service because it only offers that feature to its advanced plan users. But you can broadcast it to custom platforms using streaming tools like OBS.
Crowdcast Pros and Cons
Pros
It has an instant replay feature
Great customer support
Crowdcast has a call-to-action sales option when live
One of the easiest platforms for selling your events
Cons
Crowdcast only permits a maximum of 4 speakers on stream per time
Crowdcast Pricing and Free Trial
Crowdcast offers four different paid plans for its live-streaming services. All plans come with a 14-day free trial. However, it doesn't offer a free plan like some of the other services I've featured in this article.
The Starter plan allows 2-hour streaming sessions for up to 50 live attendees. You'll be charged 15 cents for every additional attendee. The live sessions come with auto-recording that your audience can access separately afterward. You can also access the RTMP studio to broadcast using OBS, Wirecast, and other platforms.
The higher-priced plans offer more live attendees, longer sessions, a higher number of integrations, and multistreaming to Facebook, YouTube, and Twitch.
9. Dacast
Dacast is an end-to-end video hosting and streaming software designed for businesses that regularly leverage video broadcasting for marketing and customer engagement.
Features
It offers a host of live streaming and video hosting features that allow you to produce high-quality videos and monetize them the way you want. For example, you can charge your viewers for your live sessions or monetize your video with advertising.
Dacast comes with an embeddable HTML 5 video player that allows you to broadcast your videos to any device. It ensures the highest quality streaming through smart load management and CDNs.
You also get a comprehensive video editing suite with Dacast using which you can customize your video's appearance, add branding elements, and trim unnecessary content.
One of Dacast's unique strengths is its ability to broadcast your on-demand videos in China without buffering. This is an excellent feature if your target audience is in China.
Overall, Dacast is an impressive live streaming software with lots of powerful features for high-quality streaming.
Dacast Pros and Cons
Pros
It is reliable and easy to use
Users can add video files to their website seamlessly
You can easily integrate it to HTML pages and OBS studio
Videos can be set up to be completely private
Cons
Its backend interface needs improvement
Dacast Pricing and Free Trial
Dacast offers three diverse monthly subscription plans that all come with a 30-day free trial.
All premium plans offer unlimited streaming, concurrent viewers, and video hosting.
The Starter plan costs $39/month and offers 1.2 TB per year with full HD broadcasting. Unfortunately, you don't get a paywall with this plan, but you can include it as an add-on.
The higher-priced plans offer more storage, bandwidth, and monetization features. The Scale plan is specifically designed for large organizations with extensive video streaming requirements, including dedicated support and advanced security.
10. Wirecast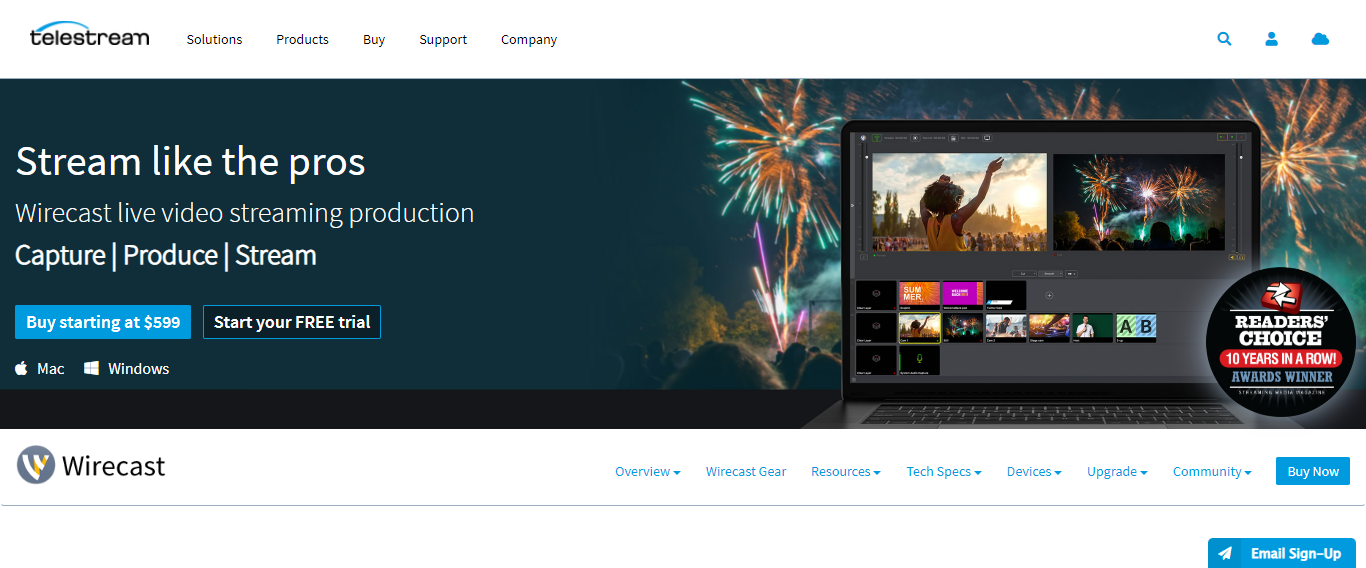 Wirecast is a professional-level streaming software for unlimited multi-platform streaming.
Features
Wirecast allows you to connect to multiple CDNS such as Twitch, Facebook, YouTube, and Ustream. The streaming software not only enables you to connect to various platforms but as long as you can set up your video server, the encoded stream from Wirecast or even multiple simultaneous streams can be sent anywhere. This streaming software is unique as it lets you stream to any destination without restrictions. Wirecast does this via RTMP or SRT (caller mode).
The software also features a multi-viewer function that allows you to send single sources (up to 17 source grids) out for each attached monitor. This feature gives you a quick and clear view of all your sources.
When it comes to ease of use, Wirecast offers a complex but easy-to-learn interface. So the user interface may seem difficult to use for beginner users at first glance. The company that owns Wirecast, Telestream, constantly ensures that the streaming tool comes out with news features, improvements, and updates. Every Wirecast package also comes with support. However, if you want 24/7 support you have to pay an additional $299 annually.
Wirecast Pros and Cons
Pros
Wirecast offers several training videos on how to use the solution
You can stream on both YouTube and Facebook simultaneously
It contains already made templates and presets that enable users create professional broadcasts
Cons
Wirecast is a bit expensive for most users and upgrades are costly as well.
Wirecast Pricing and Free Trial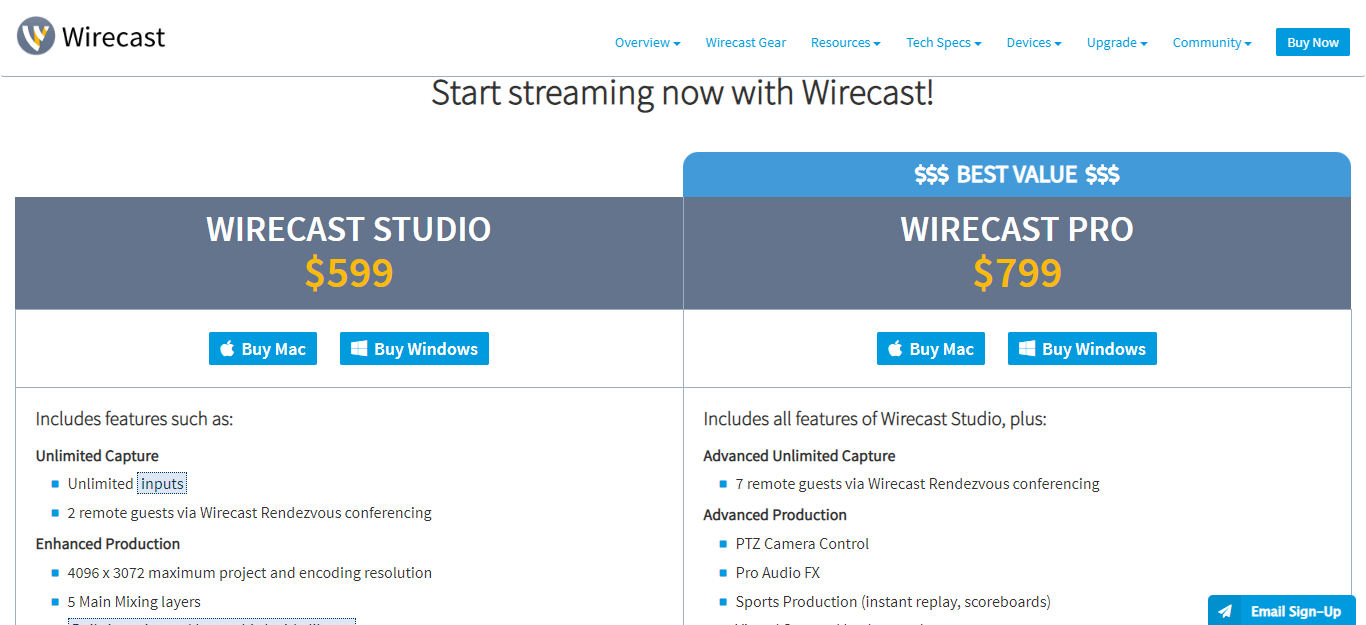 Wirecast offers two pricing plans for various needs.
The first plan, Wirecast Studio, which is the cheapest option costs $599. The plan is available for both Mac and Windows. It features the ability to send to unlimited destinations, unlimited inputs, 2 remote guests via Wirecast Rendezvous conferencing, Virtual camera and microphone output, and 1-4 slot multi-viewer output.
Wirecast Pro, the second plan for the live stream software costs $799. It also is available on Mac and Windows. The tool has advanced unlimited destination features such as adding baseband SDI/HDMI output, NDI program output, secondary display output
1-17 slot multi-viewer output, ISO recording of individual sources, and multi-track audio recording. Beyond these, there are advanced production features offered as well.
Support for both plans comes naturally but if you want 24/7 assistance you'll need to subscribe for additional premium support.
What's Your Pick for The Best Live Streaming Software?
We've hand-picked some of the best live streaming software platforms for you in this article. All of them are great products with high-quality features and customizable video broadcasting options.
So, you won't regret choosing any of them.
However, since you still need to purchase one of these platforms, here are my top picks to make your decision easier.
Restream– The best streaming software for multiple platforms.
Be.Live – One of the easiest platforms for those just getting started with livestreaming
StreamYard – Feature-rich platform with some of the strongest recording capabilities
Onestream – The best end-to-end streaming software with strong analytics for pros
Crowdcast – Best for monetizing your livestream and multistream events
Which one is suitable for your live streaming business model? That's up to you to decide.